Custom CNC Machining Service
At Runsom, we can provide you with 3-axis, 4-axis and 5-axis CNC machining, EDM, laser cutting and others. With advanced CNC equipment and nearly twenty years of CNC experience, it could guarantee that our team produces high-quality machined parts for you and helps you to achieve from design, rapid prototyping, complex CNC machining projects to the low and high volume production of a wide range of components.
Instant quote online
All quotations we received will be evaluated by experienced engineers and a competitive price will be given quickly.
Faster Lead Times
A professional and experienced team analyzes the production process and finds production difficulties before production, which can help you shorten the production cycle and save costly rework costs.
DFM feedback
When your 3D CAD file are uploaded, we will have an experienced engineering team to analyze any difficult-to-process positions in your parts, and we can even give some professional modification opinions to achieve cost savings.
Our facilities are equipped with the most cutting edge, high precision 3-, 4-and 5-axis imported machines, Which enables us to fulfill your order in record time
Global delivery as fast as 7 days
Machined prototypes in as fast as 1 day.
50+metals and plastics, 10+ surfaces finishes
Tolerances down to +-0.005mm
ISO 9001 : 2015 certified facotry
40+CNC machines
50000+machined parts each month
What is Precision CNC Machining
CNC (computer numerical controlled) machining is a manufacturing process of using CNC high precision machines to remove raw materials with various cutting tools, which is automatically controlled by a computer program according to the the desired geometric specifications. Our engineers and machinists will customize computer program to optimize machining time, surface finish and final tolerances to meet specifications of your dedign. We can manufacture different parts from prototypes, small and large volume by CNC machining.
Advantages of CNC Machining
Experience: Our engineer and specialist team have extended experience and knowledge working with complex and precision CNC parts in various industry , we are able to provide you with the best solution for your project from design to production.
Rapid Turnaround: We will respond to your inquiry within 24 hours. With our latest CNC technologies, Runsom can finish high-precision and quick turn parts in as fast as 1-3 days, which allows us to provide our customers with reliable on-time delivery.
Precision: We have the capability of manufacturing highly accurate CNC parts within tolerances of +/- 0.001-0.005 to achieve the high quality results.
Material Selection: Runsom stock more than 50 engineering-grade metal and plastic materials for customers' selection, which are suitable for various production application and fields. Our materials range from plastics as ABS, polycarbonate, nylon and PEEK to metal as aluminum, stainless steel, cooper, magnesium and titanium.
Custom Surface Finishes: You can select various surface finishes on solid metal and plastic parts from precise design specifications. We provide different surface finishes such as standard machined, smoothed, bead blasted, anodized clear or color, anodized hard-coat, power coated, electropolished, black oxide, chromate conversion coating, brushing.
Scalability: Runsom CNC Machining is perfect for production of 1-10,000 parts. Rapid production to achieve low, medium to high volume production.
CNC Machining Services Processes
CNC Milling Service
CNC milling is to cut solid plastic and metal material into final precision parts using different axis milling processes. The advantage of multi-axis milling machines realizes versatile, accurate and repeatable CNC milling process for production of different features and complex geometries. Take channels, holes, curves and corners for some examples. Milling can be also called as a perfect way of making tooling for die casting and injection molding. Read more..
CNC turning is a process of machining parts with cylindrical features from metal or plastic rod stock. Compared with CNC milling, the turning process allows us to make any circular parts effectively such as shafts, worms and spheres, and it can apply to creation of the parts with complex external and internal geometries and various threads. Our turning capability can range our service from prototypes to mass production. Read more..
CNC Machining Surface Finishes
As Machined: Without any surface treatment processing methods, the parts will leave visible tool marks and burrs, which can be completed quickly and cost-saving.
In CNC machining, our standard tolerance for metal is DIN-2768-1-f and plastic is DIN-2768-1-m. The tolerance is greatly influenced by part's geometry and material type. For the specific tolerance details of  different parts, please contact us.
Type
Tolerance
Linear dimension
+/- 0.025 mm
+/- 0.001 inch
Hole diameters (not reamed)
+/- 0.025 mm
+/- 0.001 inch
Shaft diameters
+/- 0.025 mm
+/- 0.001 inch
Part size limit
950 * 550 * 480 mm
37.0 * 21.5 * 18.5 inch
Advanced testing equipment
First article & in-process inspections
Final inspection before shipment
CNC Machining Parts Gallery
Table of Contents Situation of Application:The ProjectThe Product1 Design for Manufacturing Recommendation2 Design for Manufacturing RecommendationMaterial InspectionCNC MillingSandblasting, Anodizing and … Read more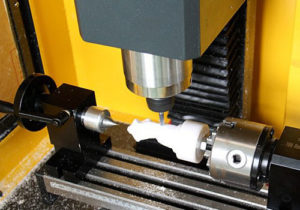 Table of Contents The definition of CNC machiningDesign restrict of CNC machiningtoleranceangleUndercutsWall ThicknessThreadCNC MillingQuick tips for CNC millingCNC turningQuick tips … Read more
Request Your Free CNC Machining Quote Today
Our improved algorithm decreases CNC machining quotation times by up to 90%. Most quotes are delivered within 24 hrs. and usually in much less time, depending on project details.
Your customer support partner will contact you directly about your CNC machining quote to ensure you've received and understand all aspects of your quotation and to answer any questions you may have about your options.