CNC Machining in Nylon/Polyamide
Nylon, also known as polyamide, is often used as a substitute for low-strength metals like steel, copper, iron, etc in the CNC machining process to produce CNC machined nylon parts.
Nylon CNC machining is a method using machine tools to remove the excess materials from nylon stocks and execute certain machining processes depending on the computer programming, and then create the desired nylon components. Nylon machined parts play an essential role in the manufacturing of automobiles, electrical, chemical equipment, and so on, due to their high resistance to chemical and abrasion, and good rigidity and toughness. Besides, it is an ideal option for producing pump blades, gears, and bearings because of its excellent corrosion resistance, wear resistance, lightweight, and non-toxic. As its hardness can be strengthened by melt spinning, nylon is also widely applied to form a various array of knitwear and medical products.
Nylon CNC Machining Specification
Structural components like wheels, gears, and consumer electronics casings.
It is determined by the desired effect and the Nylon type used. A tolerance of ±0.010" (±0.25 mm) is available at Runsom.
High resistance to wear, fatigue, good electronics insulation, low friction coefficient, incredible strength, thermal insulation.
It is mostly decided by the available machine and part geometry. A minimum wall thickness of ±0.03" (±0.8 mm) is available at Runsom.
As fast as 3 days, but it will be finally determined by part complexity and order quantity.
200 x 80 x 100 cm(the available size is mostly decided by the machine and part geometry).
3-axis & 5-axis CNC milling, Swiss Machining.
Dying, As Machined, Bead Blast.
Nylon CNC Machining Manufacturer – Custom CNC Machined Nylon Parts
Runsom is a supplier offering valuable solutions for CNC nylon machining and custom nylon CNC parts with our superior CNC nylon machining services. Our manufacturing capabilities are stably supported by our latest and cutting-edge machining equipment and technologies, paired with highly experienced and skilled engineers. Also, there are a multitude of machining processes and secondary processing options for your selection. A series of nylon grades such as Nylon 6, and Nylon 66 that is inexpensive and cost-effective is available for your applications requiring high performance and low cost. At Runsom, you have easy access to get your nylon components in the highest quality, tightest tolerance, and fastest lead time at a competitive price.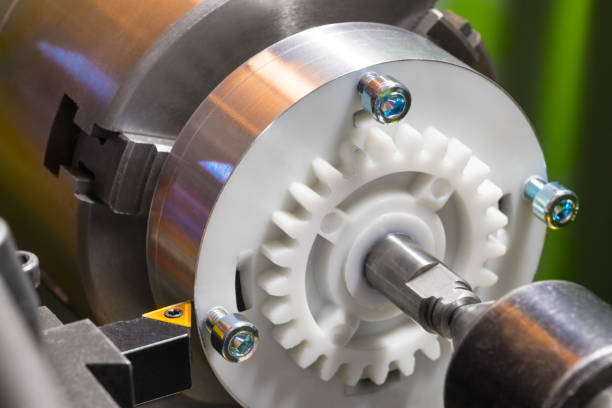 CNC Machining Nylon Parts Applications
CNC machined nylon parts are typically applied for medical devices and electronics insulation. The most notable use case for nylon is screws and spacers for panel mounted circuit boards. Runsom has delivered numerous components made from nylon for a wide variety of industries, part of nylon products we fabricated including:
Our Strengths in CNC Nylon Machining Services
Nylon can be used as electrical insulation. It is light and provides high tensile strength and low friction. This material doesn't burn - it just melts.
There is no metal in nylon. It is a strong, rigid engineered synthetic thermoplastic linear polyamide. Nylon is one of the most popular plastics as CNC machining materials to replace low-strength metals.
Nylon 6/6 has a PSI of 11.2000. It is the most commonly used of the nylon family of plastics, however, glass-filled nylon is stronger with 13,500 PSI. It possesses many great properties such as high stiffness, strength, hardness, toughness, and dimensional stability. This material can be found in assemblies that require mechanical damping or electrical isolation. Common applications include medical equipment, electrical enclosures, washers, and aerospace parts.
Nylon, as a thermoplastic, can be molded into various shapes through thermoforming. While nylon can be extruded, injection molded, and formed into fibers for ropes and fabrics, it has advantages when manufactured via CNC machining. Nylon has excellent thermal, mechanical and chemical resistance when cut from solid materials.