CNC Machining in POM (Delrin/Acetal)
CNC POM machining is ideal for fabricating plastic components with incredible performance, repeatability, and precision.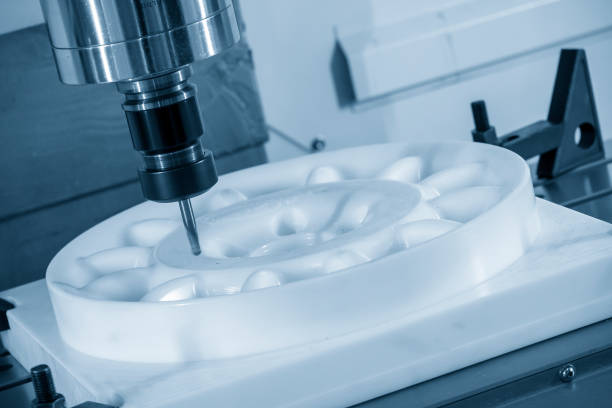 POM (Polyoxymethylene), also known as Delrin and Acetalis, is an engineering thermoplastic featured for its high strength and excellent machinability. It has good chemical and abrasion resistance, and great mechanical properties, as well as exceptional dimensional stability when compared with other general plastics. The combination of wonderful properties contributes to creating high-quality and high-accuracy mechanical components in CNC machining in Delrin. POM materials play an important role in the manufacturing of precision parts for various applications of use. CNC POM machined parts are often found in consumer electronics like printers and televisions, connector components like nuts and screws, mechanical gears, and guiding elements.
Runsom offers Delrin machining services for global customers for more than ten years and has adequate experience in POM milling, drilling, and turning. Abundance material grades of Acetal are at our disposal including medical grade POM, food-grade POM, glass-reinforced Acetal, PTFE-filled Acetal, and FDA-compliant Acetal.
POM CNC Machining Specification
High-precision mechanical parts such as bushings, gears, valves, and bearings components.
It is determined by the desired effect and the POM type used. A tolerance of ±0.010" (±0.25 mm) is available at Runsom.
High tensile & impact strength, good fatigue and moisture resistance, low friction.
It is mostly decided by the available machine and part geometry. A minimum wall thickness of ±0.03" (±0.8 mm) is available at Runsom.
As fast as 3 days, but it will be finally determined by part complexity and order quantity.
200 x 80 x 100 cm(the available size is mostly decided by the machine and part geometry).
3-axis & 5-axis CNC milling.
POM CNC Machining Manufacturer – Custom CNC Machined POM Parts
Runsom is a reliable manufacturer in CNC plastics machining of good-quality POM components at lower costs and in faster lead time than other machine shops. Backed by our key 3-, 4-, and 5-axis CNC machining techniques, leading-edge production equipment, and highly skilled engineering team, Runsom has sufficient capabilities to machine complex components with details and intricacies by applying numerous grades of POM materials. If you want to outsource your CNC POM machining demands, Runsom may be your premium partner to help craft your complicated CNC machined POM products while maintaining high quality and precision consistently. We are delighted to accept and tackle all of the challenges ahead of us and spare no effort to assist you to gain more chances for your business.
Get an instant RFQ online for free or talk with our machinists directly.
CNC Machining Delrin/POM/Acetal Parts Applications
Due to their good properties and exceptional performance, CNC machined POM/Delrin components have been a popular plastic in different industries including medical, mechanical, and many other areas. The most notable case may be sliding and guiding elements made from POM plastic as this material can offer a low coefficient of friction and good sliding properties. Other common applications include:
Our Strengths in CNC POM Machining Services
POM is a practical material in CNC machining. Machinists who have come into contact with plastic usually like it because it owns good machinability. Compared with ABS, it has greater strength and dimensional stability. It is a higher quality material as well, but it is also more expensive.
POM is an engineering thermoplastic used for precision parts in the CNC machining process that require high strength, low friction, and exceptional dimensional stability.
Laser cutting or engraving Delrin is feasible and practical as this kind of plastic can be easily removed by the laser beam.
Nylon is a strong and durable plastic that can be used for many purposes, but it is not as strong as Delrin.