CNC Machining in Polyethylene
Similar to other engineering plastics, CNC machining Polyethylene is a subtractive machining process to manufacture PE plastic components with certain machining techniques.
What Is PE (Polyethylene) Plastic?
Polyethylene, also known as Polythene or PE, is a white waxy translucent material with a high strength-to-weight ratio, good impact strength, and excellent weather resistance. This engineering plastic features its low friction coefficient, low hardness and strength but high ductility and impact strength. PE plastic has superior dielectric properties and chemical stability, so it's a good electrical insulator and highly resistant to organic solvents such as phosphoric acid, sodium hydroxide, hydrofluoric acid, and hydrochloric acid at room temperature. However, it can be eroded and dissolved in nitric acid and sulfuric acid, and easily degraded by ultraviolet radiation. According to the polymerization method, molecular weight, and chain structure, Polyethylene is divided into different types, typical ones among those including High Density Polyethylene (HDPE), Low Density Polyethylene (LDPE), Linear Low Density Polyethylene(LLDPE), and Ultrahigh Molecular Weight Polyethylene (UHMWPE).
Liners for chutes and hoppers, chain guide profiles, Machine guards, dock bumper linings.
It is determined by the desired effect and the titanium used. A tolerance of ±0.010" (±0.25 mm) is available at Runsom.
Superior abrasion resistance, a diversity of PE variants, great toughness and impact strength, and great chemical resistance.
It is mostly decided by the available machine and part geometry. A minimum wall thickness of ±0.03" (±0.8 mm) is available at Runsom.
As fast as 3 days, but it will be finally determined by part complexity and order quantity.
200 x 80 x 100 cm(the available size is mostly decided by the machine and part geometry).
3-axis & 5-axis CNC milling.
As Machined, Bead Blast, Annealing, Powder Coat.
Polyethylene CNC Machining Manufacturer – Custom CNC Machined PE Plastic Parts
CNC Polyethylene machining is an efficient and practical means of manufacturing large batches of high precision components with sophisticated structures and high repeatability. Backed by rich experience and technical knowledge of CNC machining plastics and metals, Runsom has the capability to offer global customers the best solution to save cost and improve the profitability of their business. We are continuously dedicated to delivering precision machined parts or components to clients across the world and making progress in this field consistently. There are a large number of combinations of materials, processing methods, and surface finishing operations to choose from, so you can truly enjoy the overall one-stop services at Runsom starting from model designs to materials selection to production.
If you have demands on manufacturing custom CNC machined parts in high-density, low-density, or other polyethylene variants, turn to Runsom and you will get the best finished results. Request a quote online for free right now!
Typical Types of Polyethylene Plastics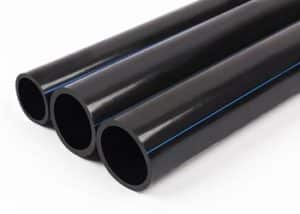 HDPE is an opaque white waxy powder or particles with nontoxicity and crystallinity up to 80% ~ 90%. Its softening point and serving temperature are 125 ~ 135 ℃ and 100 ℃ respectively. This non-polar thermoplastic resin exhibits large quantities of excellent properties including electrical insulation, good wear and cold resistance, amazing chemical stability, and great chemical inertness to any organic solvent at room temperature, etc. Compared with Low-Density Polyethylene, HDPE has better mechanical strength like surface hardness, tensile strength, and rigidity.
LDPE, a kind of waxy particle, is milky white and non-toxic with a matte surface. It has the lightest density (0.91-0.93 g/cm3) in polyethylene resin density. It has a lot of notable features such as electrical insulation, good flexibility, ductility, easy processing, resistance to general organic solvents, transparency, and great chemical stability. And Low-Density Polyethylene has lower hardness but higher impact strength than that HDPE.  
Similar to LDPE, LLDPE is milky white, non-toxic, and waxy particles but its density (0.918 – 0.935g/cm3) is a little high than the former. It shows a variety of advantageous properties, including good resistance to low and high temperatures, high strength, toughness, and rigidity. LLDPE is a popular material in agriculture, medical, and many industries since it has good environmental stress cracking resistance and is insoluble in acid, alkali, and organic solvents.
UHMWPE, short for Ultrahigh Molecular Weight Polyethylene, is a subset of HDPE (High-Density Polyethylene) compounds. This kind of high molecular compound is difficult to process, but it has some additional advantages as well. Its exceptional wear resistance and overall toughness are beneficial from this material's extremely long polymer chains. And its friction coefficient can match the Teflon but its abrasion resistance is better.
Our Strengths in CNC Polyethylene Machining Services