Sheet Metal Fabrication Services
Get your custom sheet metal parts and assemblies as fast as days
Online sheet metal cutting and bending service to produce durable and end-use metal parts
Receive an instant quote online on custom-formed sheet metal prototypes and production parts
Custom Sheet Metal Fabrication Services - Rapid Sheet Metal Prototyping and Production
Runsom employs sheet metal technology to bend, punch, and cut standard gauge metals for both rapid prototypes and low to high-volume production runs. What set us apart from other conventional sheet metal shops is our incredible capacity and proficiency in sheet metal manufacturing of end-use and durable metal parts or components coupled with broad material selections and finishes matching your needs.
From prototypes to assemblies to finishing options, Runsom always keeps you traceable with your order and concentrates on every single detail and matter on model designs, user experience online, and each production stage. To help global product developers, designers, and manufacturers grasp more chances in the market, we try our best to shorten the cycle time and ensure on-time delivery to speed up their product launch - whether it's a one-off prototype or 1,000 production parts.
Sheet metal fabrication is a subtractive manufacturing process involving forming parts from thin metal sheets by cutting, bending, folding, punching, and assembling. Sheet metal can be cut, bent, or stretched into almost any shape, usually by cutting and burning the metal. Sheet metal parts are usually highly precise and durable, making them particularly preferred by engineers to use for end-use applications such as enclosures, brackets, and chassis.
If you rightly have demands on custom sheet metal fabrication or outsourcing manufacturing of your sheet metal parts to a reliable supplier in China, Runsom may be your premier choice. You have access to get in touch with our team of knowledgeable engineers and machinists to get a fast and cost-effective solution for any kind of parts.
How Does Sheet Metal Fabrication Work?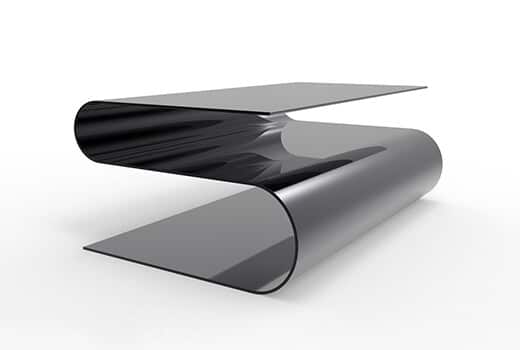 The sheet metal fabrication processes start with removing materials from thin sheet metal stock placed on a flat bed following programmed part patterns to form desired shapes by cutting tools. This operation can be finished with a variety of subtractive machining processes. A sheet metal punch, shear, laser, waterjet, or plasma can generate additional features such as internal holes and edge features according to the part geometry. The second stage is material deformation. After being cut, the parts reach the press brake where they are formed into the final geometries with the forming process such as bending. The last stage is to assemble pieces of sheet metal or fit them together with other components that are not made from sheet metal into a complete product. In many cases, surface finishing operations are needed to enhance mechanical properties.
Advantages of Sheet Metal Fabrication
The sheet metal fabrication process is the most cost-effective choice for on demand production of sheet metal parts and prototypes with uniform wall thickness.
Sheet Metal Fabrication Processes Available at Runsom
Thin sheets of metal can be manipulated through different processes as they are more malleable than thick workpieces. Moreover, sheet metal fabrication offers competitive prices for low-volume prototypes and saves costs for high-volume production runs. Runsom has extensive capabilities in fabricating sheet metal from high precision cutting, bending, punching, and welding, to assembling services.
Sheet Metal Materials Available at Runsom
There is a multitude of materials available for sheet metal fabrication. Here are some notable cases of metal sheets. Aluminum is one of the popular materials used for sheet metal manufacturing and its four most common grades are especially suited as sheet metal, that is, 3003-H14, 5052-H32, 6061-T6, and 1100-H14. Stainless steel grade 304 is an ideal option to fabricate sheet metal because of its great weldability, formability, and corrosion tolerance. Grade 316 is recommended when your applications are marine products, valves, pumps, or chemical equipment. For brass, it has high formability, strength, corrosion resistance, and conductivity, so it's also a perfect material used in the sheet metal fabrication process.
Dimensions & Tolerances of Sheet Metal Fabrication
The two tables below conclude the standard dimension and tolerances of sheet metal parts we produced.
| | |
| --- | --- |
| Size | 47 in. x 119 in. OR 1,193.8mm x 3,022.6mm (max) |
| Formed part | 1.5 in. x 1.5 in. OR 38.1mm x 38.1mm (min) |
| Flat part | 0.5 in. x 0.5 in. OR 12.7mm x 12.7mm(min) |
| Bend length | 10 ft. OR 3.048m (max) |
| | |
| --- | --- |
| Bends | +/- 2 degree |
| Offsets | +/- 0.024 in. (+/- 0.608mm) |
| Bend to Edge | +/- 0.020 in. (+/- 0.508mm) |
| Bend to Hole/Hardware/Bend | +/- 0.030 in. (+/- 0.762mm) |
| Hole Diameters | +/- 0.010 in. (+/- 0.254mm) |
| Edge to Edge/Hole; Hole to Hole | +/- 0.010 in. (+/- 0.254mm) |
| Features Separated By Two or More Bends | +/- 0.060 in. (+/- 1.524mm) |
| Hardware to Edge/Hole | +/- 0.020 in. (+/- 0.508mm) |
| Hardware to Hardware | +/- 0.030 in. (+/- 0.762mm) |
Sheet Metal Prototyping to Production
Rapid sheet metal prototyping services at Runsom can help you to develop prototypes as requested and functional testing of models before it goes into the market, significantly reducing the cost and risk. It's the right choice to work with us for sheet metal fabrication from prototyping to production.
Quality and Accuracy Assurance
With ISO 9001:2015 certification, the quality and precision of sheet metal parts we produced will exceed your expectations.
Real-time Online Pricing
A quick and professional quote can be offered in 1-24 hours after you submit an RFQ with clear information like materials, specifications, and finishing options.

Infinite Manufacturing Capacity
Our factories have equipped such superior and advanced machinery that extensive capabilities in-house can meet your requirements from design, and prototypes to mass production of your sheet metal parts.

Technical Proficiency in Sheet Metal Parts
Start your sheet metal fabricating project with Runsom, you'll always have access to our highly skilled specialists and machinists to optimize your model designs and gain reviews on manufacturability and saving cost.
Available Sheet Metal Finishes
The mechanical properties and performance of sheet metal fabricated parts or components can be enhanced through surface treatment. If you want to improve the chemical resistance, appearance attractiveness, and hardness of your sheet metal parts after machining, you can choose from the following finishing options suitable for sheet metal manufacturing.
| | | |
| --- | --- | --- |
| Materials | Color | Texture |
| Aluminum | Clear, black, grey, red, blue, gold. | Smooth, matte finish. |
| | | |
| --- | --- | --- |
| Materials | Color | Texture |
| ABS, Aluminum, Brass, Stainless Steel, Steel | n/a | Matte |
| | | |
| --- | --- | --- |
| Materials | Color | Texture |
| Aluminum, Stainless Steel, Steel | Black, any RAL code or Pantone number | Gloss or semi-gloss |
| | | |
| --- | --- | --- |
| Materials | Color | Texture |
| Aluminum, steel, stainless steel | n/a | Smooth, glossy finish |
| | | |
| --- | --- | --- |
| Materials | Color | Texture |
| Aluminum, Brass, Stainless Steel, Steel | n/a | Glossy |
| | | |
| --- | --- | --- |
| Materials | Color | Texture |
| ABS, Aluminum, Brass, Stainless Steel, Steel | n/a | Satin |
If you still have no answer in the following choices listed, you can clarify what kinds of processing methods and final effects your applications require and we will specially customize that as per your request. Get a custom sheet metal fabrication quote online and design analysis today.
Ready to Get a Sheet Metal Fabrication Quote?
The geometric structures, tight tolerance, and sheet metal materials including aluminum, steel, stainless steel, and copper, along with assembly services such as welding, installing PEM inserts, and secondary processing options, all of those are available as long as you work with our sheet metal fabricating. Under the prerequisite of guaranteed quality, we move forward to offer our customers the most competitive and cost-saving sheet metal fabricating plan and prices no matter for small-scale prototypes or large-scale production runs.
Applications of Sheet Metal Fabrication
Sheet metal fabrication is a versatile manufacturing method for a variety of metal products across a wide range of industries. This process is cost-effective for low-volume, high-mix prototypes, and high-volume production runs. Part of common sheet metal parts are as follows:
Sheet metal fabrication is the manufacturing process of shaping flat metal sheets into desired structures or products through material removal, material deformation, and assembly. Sheet metal can be cut, bent, or stretched into almost any shape, usually by cutting and burning the metal.
The selection of the cutting machine is determined by the gauge of the sheet and the material used, along with other key elements like delivery, tolerances, and geometric complexity as expected. You don't have to figure out the type of cutting machine suiting your sheet metal as our experts clearly know what kind of equipment, technology, and even materials are best suitable for your project. Thus, just submit your 3D files online and get a professional solution from our experts in fabricating sheet metal quickly.
Generally, the cost of using just a single cutting machine such as a laser cutter to cut a part will spend less than that of multiple forming processes, for instance, cutting, bending, and punching. But most sheet metal parts need to be machined with a combination of different forming processes, and the per-unit costs will reduce by large-volume quantities.
The tolerances of sheet metal fabrication are decided by the features and dimensional details of sheet metal parts necessary for consistent and precise integration and installation.  
To ensure the accurate control of the variables affecting the part precision and manufacturability, our custom sheet metal fabrication services are in accordance with the ISO 2768-mk.
The K factor in the sheet metal process is the ratio of the neutral axis to the thickness of the material. This value varies with various physical properties and the thickness of the material used.
The costs of sheet metal fabricated parts or products depend in every respect including the design, geometric complexity, forming processes, surface finishing operations, and more. Besides these crucial factors, the material costs should be also considered.
Our quote online will include all of these factors and even variables in line with the manufacturability of sheet parts, so request a quote to get started with your project right now.