—"One of the Best Manufacturers of Precision Machining for Prototyping & Production in China"
Dongguan Runsom Precision Co., Ltd.(Runsom) is a rapid prototyping manufacturer with the "ISO9001:2015" certification. Headquartered in China, Runsom has more than 10 years of custom CNC machining experience. We specialize in custom CNC machining services from design, rapid prototyping, and complex parts geometry to low or large volume production. Committed to producing high-quality machined parts in accordance with your budget and lead time demand, Runsom can take your concepts or designs to reality production in just days with our specialization, quality, and craftsmanship.
Runsom has fully guaranteed the quality of CNC products and customer satisfaction in strict accordance with the provisions of the ISO standards in the regulations of management rules. We partner with organizations around the world to craft precisely machined parts in a variety of certificated materials, including various plastics and metals. Products we created have been widely used in aerospace, medical, automotive, communication, mechanical, electronic, intelligent equipment, toys, and other industries.




Runsom Precision focuses on CNC milling, CNC turning, Swiss turning, 3D printing, and rapid prototyping. We can also provide sheet metal fabrication services. In addition to numerous selections for machining, we also offer a series of post-processing options to help improve cosmetics or enhance mechanical properties. Our machined parts are generally used by professional engineering companies and original equipment manufacturers worldwide. We serve a vast number of industries including Automotive, Electronics, Optics, Medical, Oil & Gas, Tool & Die, Motorcycle & Bicycle, Dental, Monitoring equipment, and so on.
We offer a fast, efficient, and effective solution for your CNC machining project. This gives you the chance for prototyping tests of form, fit, and function, or for parts production. Evaluation and functional testing of the product enable your product to be optimized before taking it to the market.

1. Incredible Capabilities
Our extensive production capabilities enable us to satisfy all your project requirements from prototype to production.

2. On-time Delivery
We value punctuality and understand the significance of on-time delivery, so we'll make a suitable production schedule for your project.

3. Exceptional Experience
You can expect an exceptional customer experience with our expert assistance and prompt response to your inquiries.
Runsom possesses a full set of advanced equipment including 3-axis, 4-axis, and 5-axis CNC machines with tolerances of ±0.0005 in and ±0.01 mm, allowing us to produce parts with high precision, complex geometry, and tight tolerance. The materials we use are all ordered from the unified material supplier base, ensuring they are exactly correct and good-quality ones for each product.
we have a rigorous supplier vetting process and only accept top-performing partners to ensure we continue to deliver the highest quality parts to our customers. We also have people on the ground completing regular quality checks of our partners' facilities. Paired with the rich expertise of our highly skilled machinists and well-trained workforce, our machining center can perfectly match each crucial requirement and specification. And our automotive coordinate measuring machines (CMM) perform a complete inspection to make sure each part is produced exactly to your specifications and generate measurement results quickly.
ISO Certified Manufacturer
Our ISO 9001:2015 quality system is not only an operation standard for us but also our core business functions in every aspect. We start with the assistance of custom product design to final parts assembly and shipment. Our specialized manufacturing with quality control guarantees excellent service for customers worldwide.
Quality control of production 
As your loyal supplier, we have strict manufacturing quality control in all manufacturing processes. To ensure these control processes can be implemented in place, we schedule the following steps:
Part Design Checking
Mold Design Control
Raw material inspection
Visual inspection
FAI – First Article Inspection
PPAP – Production Part Approval Process
Mold Steel Hardness Inspection
Mold Electrodes Inspection
Mold Core and Cavity Steel Dimension Inspection
Mold Pre-Assembly Inspection
Mold Trial Report and Samples Inspection
Pre-Shipment Final Inspection
Export Product Package Inspection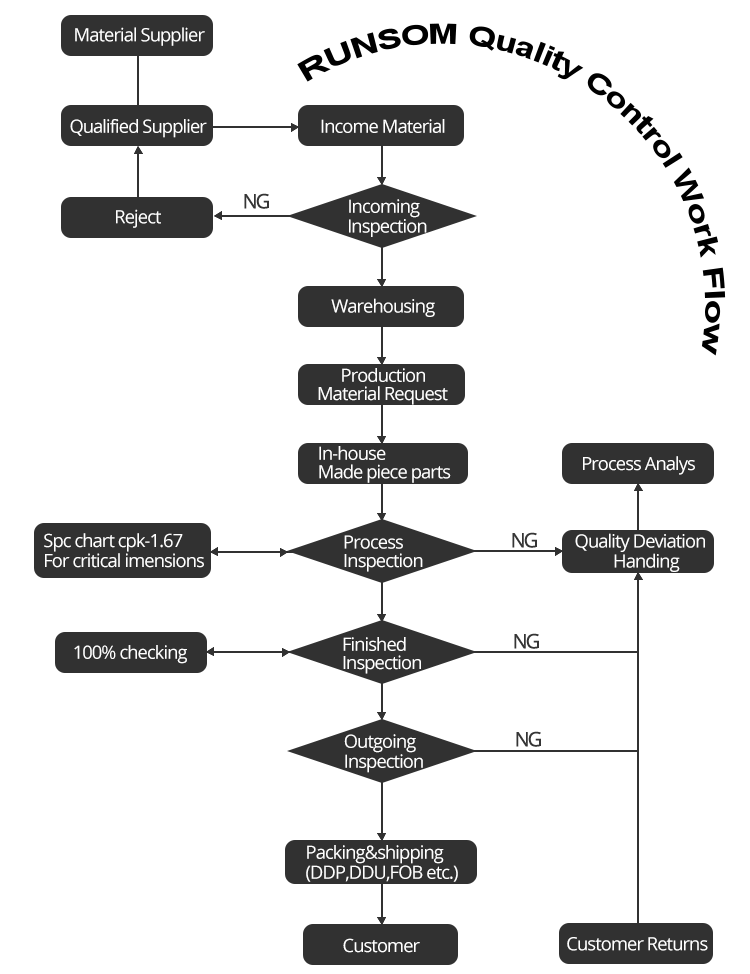 Frequently Asked Questions
The surface treatment we can do:
Anodizing
Hard Anodizing
Alodine/Chelfilm
Heat treatment
Teflon coat
Chemical conversion coating
Engraving And Silk Screening
Plating(Zinc, Nickel, Gold, Silver, Chrome, Oxidize, etc)
The material we mostly process:
Metals

Bronze
Copper
Steel
Tool steel
Titanium alloy
Kovar alloy
Inconel 625

Plastics

POM (Delrin)
ABS (Acrylonitrile Butadiene Styrene)
Nylon(PA)
PLA
PC (Polycarbonate)
PEEK (Polyether Ether Ketone)
PMMA (Polymethyl Methacrylate or Acrylic)
PP (Polypropylene)
PTFE (Polytetrafluoroethylene)
PVC (Polyvinyl Chloride)
PEI (Polyetherimide)
CF(Carbon fiber)

Others
Ceramic, Carbon fiber, etc.
Our latest technology includes:
CNC Milling and Turning Multiple
Mechanical Parts Design
Precision Engineering Services
Parts Assemble
EDM-Wire Cutting
Laser Cutting
Precision Grinding
Auto-Lathing Turning
Investment Casting
Production Capabilities Minimum Tolerance:
Outer diameter dimension(turning Process) 0.01mm.
Outer diameter dimension(centerless grinding process) 0.005mm.
Outer diameter dimension(step grinding process) 0.005mm.
Internal diameter dimension(turning process) 0.01mm.
Center distance dimension(CNC milling process) 0.01mm.
length, width, high(CNC milling process) 0.01mm.
surface roughness Ra0.4a.
Run-out 0.01mm.
Roundness 0.01mm.
Flatness 0.01mm.
perpendicular 0.01mm.
Cylindricity 0.01mm.
We can provide a drawing for Manufacturing review according to your current 2D, or 3D CAD draft, or a sample offered by you. Surely, we will sign and adhere to any non-disclosure or confidentiality agreement if your design is confidential.
We respond within 24 hours when receiving an RFQ. Normally, a quotation will take 1-3 days. If it is delayed, we will notify you as soon as possible.
Please feel free to get a rapid quote right now!
The lead time is normally 2-3 weeks when receiving your complete 2D or 3D CAD models from the order date. Complex parts or large orders will take longer.
We are able to be competent for some urgently needed projects as well. As for shipping, most of our shipments are via Express or by Air, which may take 3-7days to your door.
In order to accurately and timely quote, we only accept 3D CAD files in STL, SLD, STEP, or IGES format. 2D drawings with reference dimensions must be in PDF, DWG format.
From raw material incoming to product shipment, we control every step to ensure all these are absolutely according to the customer's requirements. All products should have 4 steps during the whole manufacturing process:
Raw material inspection.
In-processing inspection.
Final inspection.
Outgoing inspection.
Our precision machined components are implemented of ISO9001:2015, combined with our in-house quality control system and measuring equipment, ensuring problem-free products.
To ensure the high quality of our machined components, we have a detailed quality control system and fully equipped measuring equipment. We guarantee all the dimensions based on the information provided by you. We have confidence in our ability to meet and exceed any reasonable expectations.