Custom Die Casting Services
Precision Machining Die Cast Parts
Fast Delivery in As Fast As 3 Days
High-quality Die Casted Parts
Once you need design or engineering assistance, our experienced team will optimize your tool design, and try our best to improve the functionality and manufacturability of your design, to minimize initial cost in new projects or redesign an existing casting. Our versatility capability guarantees our competitive quotation and competent casting, no matter long or short turnround, large or small products, and simple or complex design.
Die Casting Parts Supplier
Runsom provides die casting service with a whole range of manufacturing processes, including tool making, die casting, CNC machining, and surface finishing. Our advanced inspection equipment and experienced technical team will ensure the quality of raw materials and finished parts. Our highly skilled engineers with talent and unparalleled commitment guarantee your project the high industry standards. We specialize in low&high pressure die casting with various metal materials in tight tolerance.
We have invested countless time and money in art machines and technologies, to provide consistent and precise parts for you with less cost and production time. Our new process combining automated monitoring with the expert staff will detect process issues and correct control variables. We also improve production parts surface finish and integrity to make sure that our clients receive the best products with the highest quality and tolerance.
Die casting is a common manufacturing process for high-volume metal parts with complex structures. Die casting takes molten metal with a low melting point like aluminum, zinc, bronze, lead, tin, magnesium, and copper steel, and forces it into steel molds via high hydraulic or pneumatic pressure. These steel molds also called as dies, can produce extremely complex and high tolerance parts in a repeatable process. So we can produce more metal parts in high volume. In addition, geometrically complex parts can be reproduced by this process with a high repeatable accuracy degree.
In the modern manufacturing industry, Runsom has produced millions of components for our customers with large volume and mass production worldwide. Our parts are used in a wide range of industrial, commercial, and consumer products, such as automotive, manufacturing, electronics, architecture and construction, EMI shielding, HVAC, fixtures and plumbing, furniture and industrial manufacturing, sinks and faucets, appliances, housings, fittings, toys, telecommunications and so on.
Advantages Of Die Casting
Especially suitable for large metal parts. It helps to reduce scrap or waste, and fasten production cycle time.
Metal castings have greater properties such as high strength and excellent high temperatures resistance than plastic injection molded parts. Aluminum die cast parts have incredible strength-to-weight ratios.
Our versatility casting through the hot chamber or cold chamber will produce any virtual shape with dimensional stability.
Die casting can produce parts with smooth or textured surfaces, paints, and plating finishes. Various finishes will protect parts from corrosion and improve cosmetic appearance.
Economical for production of high-volume parts. As all production of parts and components form in only one mold, die casting is an affordable and versatile way for high-volume metal parts production at low costs.
The die casting process runs fast, normally taking only one minute from start to end. Six main stages engage in this process.
Clamp die casting molds for cavities to align.
Inject molten metal into the die with high pressure.
The molten metal cools and solidifies in the mold until it hardens completely.
Ejector pins push out the solidified metal shape.
Remove any excess material.
Employ CNC machining, surface finishing, or plating to remove blister and blow holes, and increase surface strength and conductivity.
It's a kind of metal that is dense, soft, and malleable with a low melting point. It is always used as an alloying element add to brass or bronze in did casting, in order to increase machinability.
It provides high density and extreme accuracy. In alloying usage, its main property is corrosion resistance.
Zinc is highly dense and ductile with excellent surface smoothness, impact resistance, and castability. However, it needs additional coating or plating to resist corrosion. We usually use zinc to cast fine and thin parts for mini electronic components.
Steel is a high-strength alloy, which is widely used in various industries.
There are many different varieties of bronze alloy with different properties. The general advantages of this metal are thermally and electrically conductive, ductile, and aesthetically.
Copper is incredibly stable, conductive, durable, corrosion and wear resistant. However, it has a greatly high melting point, so it will cause detrition of the dies and casting chambers used to treat it more easily and quickly than other metals.
Aluminum and its alloys are corrosion resistant, highly stable, and conductive. They have low density and dimensional stability. These properties make die-cast aluminum parts widely used in the electrical industry.
Magnesium is a low density and high strength-to-weight ratio metal with excellent machinability. It can be cast in either a hot or cold chamber, but it's not suitable in a high-stress or high-temperature environment.
There are several different metal materials available for die casting, especially some types of non-ferrous metal casting, such as aluminum, zinc, magnesium, bronze, lead, or tin. Some alloys like steel alloys can be available in this process as well, but they are often forged instead.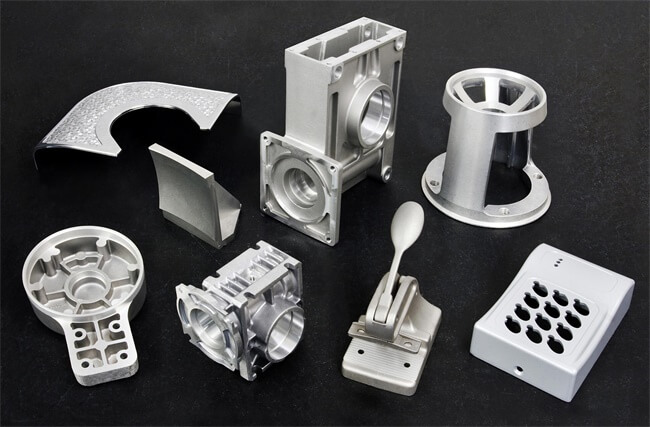 After machined, zinc and zinc-aluminum parts can be left as-cast and retain a certain extent of corrosion resistance. While aluminum parts must rely on coating to protect from corrosion. Cast parts are generally separated from the casting sprue, leaving rough marks at the gate location. Most castings also have visible marks left by the ejector pins. The surface finish of as cast zinc alloys is usually 16-64 microinch Ra.
The surface of parts can be left smooth and matte.
Materials like nickel, electroless nickel, chrome, chromate, tin, brass, gold, and silver are available for plating die casting parts.
Powder Coating is a surface finishing method suitable for almost castings. Compared to standard wet painting methods, the layer created by it is more strong, wear- and corrosion-resistant. Moreover, the aesthetic purpose can be easily achieved because there are a wide range of colors for selection.  
There are numerous options of paint formulations and colors for die cast parts to be wet painted.
Generally, die-cast aluminum parts employ this method. To achieve an oxide finish resistant to corrosion, type II anodizing would be an ideal option. But if you use type III, more than a layer with great corrosion resistance, you will also get a wear-resistant and thicker finish.
If you have other special finishing requirements for your die casting projects, you can reach out to us directly or send us your request for quoting. Our engineers will help you to select an exact finishing process as needed to meet your demand.
Die Casting Types We offer
Runsom utilizes the latest die casting technology to create on-demand parts with firm quality and complex geometries. We concentrate on the two main types of die casting: hot chamber die casting and cold chamber die casting. To choose from the two types, you should think about the quality of the metal being cast and the intended use of the part.
Hot chamber die casting
Cold chamber die casting
This process is also referred to as gooseneck casting, which is the most popular die casting process. Hot chamber machines use a pneumatic or hydraulic powered piston to force the molten metal to be injected into the die cavity. The casting chamber is immersed in molten metal, and the metal feed system controls molten metal injection automotive, so it will increase the parts production rate. For metal with a low melting point like zinc and magnesium, the hot chamber can also melt metal inside the machine.
Ready to get your Die Casting quote?
Our highly skilled engineering team is always ready to work with you to ensure design for manufacturability and the exact specifications as needed to meet your demand. Send us your die casting parts quotes now!
Die casting parts, products, and shapes are widely used in a wide variety of industries. Die cast parts possess advantageous properties such as great strength, durability, and versatility. It's a preferred choice when you require large-volume metal parts.
Runsom provides die casting services for a wide range of industries including:
Medical
Vehicles
Lights
Industrial equipment
Telecommunications
Electronic equipment
Automotive components
Connector housing
Plumbing fixtures
Our highly skilled engineering team specializes in precision manufacturing the best die cast parts made from aluminum, magnesium, and zinc at a competitive price. The parts we delivered all conform to or even exceed the industry standards. We provide mass production of complex die casting parts with less time and lower cost, our quality management system certificated by ISO 9001:2015 guarantees the quality of each part we fabricated.
What makes Runsom stand out from our rivals is our rigorous quality control management. During these years, the part produced by us has been easily found in lots of industries and applications.
Our automotive coordinate measuring machines (CMM) perform a complete inspection to make sure each part is produced exactly to your specifications and generate measurement results quickly.
Normally, CNC machining is more expensive than die casting, but the cost is extremely determined by the type of parts and product quantity. And manufacturers tend to use CNC machining to form the die and/or to enhance intricate features of a part that has been die cast.
Easily cause porosity
Not economical for low-volume runs
High cost for tooling dies and maintenance
Slow manufacturing process
Limits on ferrous metals
It usually takes around 2-4 weeks from addressing DFM concerns, tool design, manufacturing the tools, and creating samples, to beginning production or more. But the exact turnaround depends on the complexity, size, shape, type of parts, and level of production needed.
To get a fast quote, you need to do just several simple steps: Submit your CAD files along with your budget, timeline, delivery preferences, and standard requirements, and you will receive a fast quotation within 24h for free.