When you need a one-stop machine shop for CNC turning services at the lowest costs, fast lead times, and without requirements for minimum order quantity, Runsom may match the capacity your project demands exactly. The instant manufacturability feedback offered by Runsom's professional technological team allows for optimizing your part designs for the CNC turning process and fulfilling all requirements you need.
At Runsom, you can experience incredible CNC lathe services and receive high-quality turned metal or plastic parts for rapid prototyping or small-to-large volume production. Start your project with an instant quote.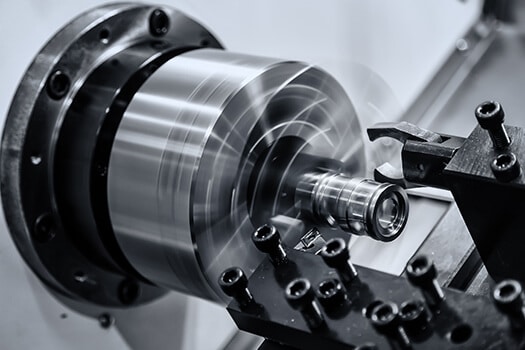 CNC turning (also known as CNC lathes) is a subtractive manufacturing process in which a stationary cutting tool removes material by making contact with the spinning workpiece to create the desired shape.
During processing, a blank bar of stock material is held in the chuck of the spindle and rotated with the spindle. Extreme precision and repeatability can be achieved under the control of computer instructions for the movement of the machinery.
When CNC turning rotates the workpiece in a chuck, it's generally to create round or tubular shapes and achieve far more accurate rounded surfaces than CNC milling or other machining processes. Know more about the difference between CNC milling and CNC turning.
The main vital components of a CNC turning center:
Chuck: Fixes the bar of stock material for machining
Spindle: Rotates the chuck across axes for material forming.
Turret: Moves the stock bar in line with the computer-aided manufacturing (CAM) blueprint or computer-aided design (CAD).
Interface: Provides options for the operator to control and use the turning centers.
Advantages of CNC Turning
CNC lathe machines also referred to as live tooling lathes, are perfect for creating any symmetrical cylindrical or spherical parts with high accuracy and excellent repeatability at a high speed.
Although typically used for specific shapes of parts, CNC turning can still be used for various cutting, such as drilling, boring, threading, and knurling.
The machine can obey strict measurements and eliminate the waste of natural human errors by integrating CAD or CAM files into the process, which may help to save costs and improve productivity, etc.
CNC turning centers have great flexibility for a variety of applications since they offer a range of dimensional capabilities. For example, our turning centers are equipped in 18 to 0.5 inches in diameter to meet nearly all needs of our customers.
CNC lathes provide excellent repeatability by producing product batches with unmatched accuracy, allowing your business to maximize output and reduce losses.
Why Runsom for Turning Service
Rapid Lead Times
Equipped with advanced CNC machines, we can deliver rapid CNC-turned parts in as fast as 3 days with high accuracy.
Available Materials
Choose from over 50 certified metal and plastic materials suitable for CNC turning.
Great Scalability
Our CNC lathe services are ideal for rapid prototyping or low-to-high volume production of 1-10,000 parts.
High Precision
Our tolerances range from +/-0.001″ – 0.005″, which is greatly influenced by the part's geometry and material type.
Various Surface Finishes
Abundant choices for surface finishing on solid metal or plastic turned parts in accordance with all critical design specifications.
Extensive Experience
Our engineering team has vast experience from numerous previous projects, they are proficient in making intricate and accurate components for various industries.
Materials for CNC Turning
We stock a wide range of metal and plastic materials to make turned parts for a variety of applications and industries.
Alloy Steel 4130
Alloy Steel 4140
Aluminum 5052
Aluminum 7075
Aluminum 7075-T6
Aluminum 6063-T5
Aluminum 7050-T7451
Aluminum MIC-6
Aluminum 6061-T6
Aluminum 2024-T3
Brass C360
Brass 260
C932 M07 Bearing Bronze
Stainless Steel 15-5
Stainless Steel 17-4
Stainless Steel 18-8
Stainless Steel 303
Stainless Steel 304
Stainless Steel 316/316L
Stainless Steel 416
Stainless Steel 420
Titanium Grade 2
Titanium 6Al-4V
ABS
POM
PP
PMMA
PTFE
PEI
PEEK
Polycarbonate
Nylon
Finishing Options for Turned Parts
Without any surface treatment processing methods, the parts will leave visible tool marks and burrs, which can be completed quickly and cost-saving.
A surface treatment process to obtain a certain degree of cleanliness and different roughness on the surface of the workpiece. The surface after sandblasting is dull and matte.
Many colors(such as black, red, blue, etc.)are available. Divided into Type II (normal) and Type III (hard), Type III is usually thicker than Type II and more corrosion resistant.
The powdered paint is sprayed onto the surface of the workpiece by electrostatic spraying to form a powdery coating, and then the powder layer is cured by heating and baking to level it into a uniform film layer. It is usually used for appearance parts, and a variety of colors is available.
Request an instant RFQ and we will offer you the appropriate surface finish for your project if you still do not see the finish you are looking for.
Applications of CNC Turning
Rapid Prototyping
CNC turning is widely used as a means of rapid prototyping, given its short turnaround times and a variety of affordable and available materials.
Batch Production
A delicate finish, extensive material selection, and tight tolerances make CNC lathes turning an advantageous technology for mass-producing parts.

Rapid Tooling
CNC turning can cut virtually any material with a high variety of fully dense, so it is ideal for fabricating metal tooling for injection molding, fixtures, stamping, bending, high-pressure die casting, blow molding, etc.
CNC Turning Design Guidelines
The table below summarizes the recommended values and essential design considerations to help to improve cosmetic appearance, enhance part manufacturability, and lower overall production time.
Linear dimension

+/- 0.025 mm
+/- 0.001 inch

Hole diameters (not reamed)

+/- 0.025 mm
+/- 0.001 inch

Shaft diameters

+/- 0.025 mm
+/- 0.001 inch

Part size limit

950 * 550 * 480 mm
37.0 * 21.5 * 18.5 inch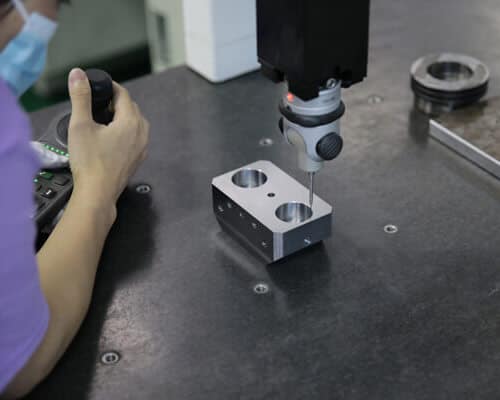 CNC Turning Parts Gallery
Turning involves a process where CNC lathes cut the bar of stock material into circular shapes. The workpiece is placed in the lathe and rotated while the tool removes the material until only the desired shape is left.
Turning is an ideal choice for producing cylindrical parts, mainly using round bar stock, but square and hexagonal ones can also be used.
CNC turning is a method for making symmetrical cylindrical parts. Typical examples are shafts, gears, knobs, tubes, etc. CNC turned parts are usually applied to various applications and industries like aerospace, medical, automotive, and other industries.   
Rough turning brings the workpiece close to the desired shape by removing as much material as possible without focusing on precision and surface finish, while finish turning produces the required accuracy and smoothness.
CNC lathes are usually two-axis machines with only one spindle. Their production capacity is not high, and there is usually no protective casing around the machine. A CNC turning center is a more advanced version of a CNC lathe, with up to 5 axes and a more general cutting capacity. They also provide the ability to produce larger volumes, often integrating milling, drilling, and other functions.
Related Resoures about CNC Turning
Milling and turning with a CNC machine could seem precisely the same to someone unfamiliar with the process. ...
Read More

→
Lathe cutting tools are instrumental in producing turned parts with a lathe machine and shaping materials to the ...
Read More

→
Lathe refers to a versatile and fundamental machine tool used to perform various machining operations in any mechanical ...
Read More

→
Ready for Your Project with A Free Quote?