China Custom Tool and Die Maker
Toolmaking is a manufacturing process involving creating tools and aids that are often used to generate gauges, fixtures, cutting tools, machine tools, molds, dies, jigs, and other tools. As for a tool & die maker, he/she has to depend on high-quality machines with computers to accurately measure the size of the parts they make. The natural character of the work of a tool maker and the growth of new needs necessitate the manufacturing of custom tools or the modification of standard tools. With comprehensive knowledge of components fabrication for the intended usage, specialists at Runsom have crafted numerous parts of rigorous requirements within the prompt delivery with the latest pieces of tool and die machinery.
A die is a specialized tool used to cut or form material to a desired profile or shape in manufacturing industries. Similar to molds, dies are commonly customized based on the object they are used to make. Products manufactured with dies vary in dimension from small to complex, including steel rule dies, die sets, dies, and punches. Precision plays a vital role in die making as the proper clearance of punches and dies is a guarantee to create parts precisely. And die sets are often required to be machined with a tolerance of less than one-thousandth of an inch.
Our customer satisfaction nearly reaches up to 99% in the tool & die-making industry, owing to our loyal partners in this sector, including product designers and developers, and manufacturers, who have facilitated their business with precision parts customized in Runsom for their machinery.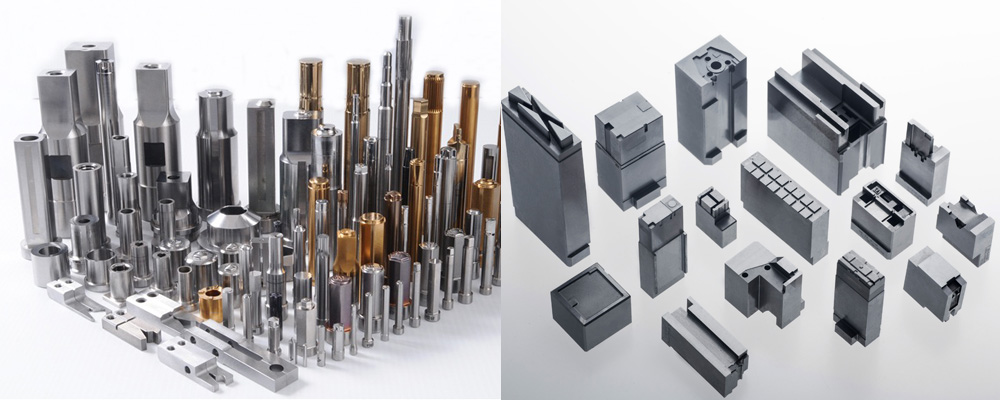 Benefits of Precision Tool & Die Making Services
A low or high volume of tools and dies for any project small or big are all acceptable and available.
Available advisory opinions on your designs, materials, and suitable machining processes to help you occupy an advantageous position on the market.
All the tools and dies are incredible in high strength, sturdy construction, and rust resistance, completely in accordance with industry quality standards.
Extensive machining capabilities include various processing methods, diverse material selections, and post-processing options for surface treatment, allowing all customers to enjoy one-stop service in the whole course at Runsom.
CNC Machining Services for Tool and Die Making
Tool and mold production is an essential part of many manufacturing processes, especially those that produce plastic products. Most frequently, many OEMs request intricate details and tolerances to satisfy their customer base. If you have the same demands, Runsom may be your best choice whether you need precision lathe work or multi-axis CNC milling for a high-quality tool and die to accurately function in the machinery. Ultra-precision CNC techniques we offer are as follows:
Precision CNC turned parts at the most competitive pricing, with fast lead times, and without requirements for minimum order quantity. The instant manufacturability feedback offered by Runsom's professional technological team allows us to optimize your part designs for the CNC turning process and fulfill all requirements you need. Learn more...
Runsom has competitive markets in complex part manufacturing with ultra-precision 5-axis CNC machining with decades of incomparable innovation and experience. We are experts in true 5-axis machining, which enables us to quickly produce "almost impossible to make" 5-axis parts. Learn more...
Swiss CNC machining is a specialized process to machine small, high-precision turned parts. Precision Swiss CNC machining services are our specialty at Runsom. We can offer you suitable cost-effective solutions in Swiss-type machining and produce high-quality precision-turned parts. Learn more...
5-Axis CNC Milling for Tool and Die Making
5-axis machines can process workpieces on one machine alone, which avoids them from being moved through several workstations, in turn, significantly saving your time and ensuring finished parts greater accuracy.
As a manufacturer in the manufacturing industry, we are keenly aware of how significant the precision product means to their job. To achieve complicated geometries with high precision, we use 5-axis CNC mills whose cutting tool can approach components from any direction to effectively process part sizes and shapes. Your custom parts to be used in tool and die making can always count on Runsom's 5-axis machining technology. The finished result will be more complicated and precise pieces fitting perfectly into their assembly.
Something that cannot be ignored is that the best result of products machined by whether 5-axis or Swiss CNC machining is only as excellent as the operators behind them. That is why our customers can trust the skill and proficiency of our technicians so firmly.
Swiss CNC Machining for Tool & Die Manufacturing
Swiss CNC machining can be an alternative for making precision components used for tool and die making. This machining method involves using CNC unit-operated lathes to rotate parts when cutting. Swiss CNC lathes are ideal for precision machining of micro components whose diameter is in the range of 1mm to 4mm. More importantly, this kind of machine can conduct multiple functions, which greatly decreases cycle times.
Swiss CNC machines are not only perfect for making tools and dies, but also suitable for manufacturing specialty jigs and fixtures. Our Swiss CNC machining process can generate specialized products that suit your specifications exactly, letting you get rid of makeshift fixtures that are unsafe and inconvenient for your work. What you will receive is completely compliant with your application of use, no matter what accurate size and tight tolerance your fixture needs.
Get A Quote to Build Your Tool & Die Project Now
A series of CNC parts we provide for the tool and mold-making industry has been widely appreciated by customers all over the world, all of which are fabricated through advanced technology and high-quality materials to ensure their quality and durability.
Tool and Die Manufacturing FAQs
To figure out the discrepancy between a tool and a die, the easiest way to think is that dies are a subset of tools. It's usually considered that all dies are tools, but not all tools are dies. In metal stamping, tools can be almost any mechanical device used to cut, shape, support, or mold metal.
Dies, on the other side, are just those tools that change the shape of metal functionally and they are usually female components of larger tools or presses. Similar to molds, dies are commonly customized based on the object they are used to make.
In most instances, machinists operate CNC machines. But for tool and die makers, they are generally proficient in both CNC machining operations and CNC programming.  
Dies are crucial tools used in the manufacturing industry. They function like molds, creating objects in custom and delicate shapes. From small fasteners and tool bits to large auto parts and mechanical parts, dies are used to manufacture various products.
The most common types of dies perform cutting and forming. Cutting dies are used to cut sheets into so-called blanks. These blanks are then exposed to the blanking die that cuts the entire periphery of the part, or to the forming die that presses the blanks into parts.
Tool and die making is a manufacturing process to create stamping dies, plastic molds, jigs, and fixtures for the mass production of solid objects. The manufacture of stamping dies is the main part of the work of the tool and die workshop.
Precision Tool & Die Maker with CNC Machining
Runsom is an ISO 9001:2015 certified manufacturer in China, built on the mission of offering every client the best product and service, along with a highly proficient team and the latest techniques to present you the exceptional result beyond your expectation. Tens of thousands of successful cases have proved our strength in machining complex die and mold parts, parts featured with small slot details, spray nozzles, and small internal Radii (.0015 inch).
Whether your own CNC machine tool is challenging to meet the strict tolerances or detailed complexity your product needs, you need to produce high-quality parts in a large volume, or you just need to make several pieces of tools and dies for your plastic injection molding company, Runsom is here to help you with our extensive experience in ultra-precision manufacturing of dies and tools.
Send an RFQ – your drawing or 3D CAD model is available for the quotation.