Nylon has become one of the most highly sought-after engineering plastics because of its exceptional mechanical properties. In fact, it's an alternative to traditional CNC machining materials like copper, iron, and steel in several industrial applications. Nylon is a more robust substance, capable of withstanding temperature extremes, and is typically more cost-effective than many alternative plastic varieties.
In this article, we'll discuss additional details about nylon CNC machining, such as the properties of various nylon grades, the advantages of nylon, and more. Let's move forward and explore more information.
Properties of Different Nylon Grades
Nylon is a thermoplastic that has the ability to resist changes in pH levels caused by different temperature conditions and also has strong solvent resistance. This makes it advantageous in petrochemical industries where parts made of fluoropolymer come into contact with or are exposed to sudden bursts of oil, gases, or detergents.
Note that nylon (PA) is recognized for its high level of crystallization, which leads to the creation of a more durable and resistant component. In addition, using nylon lessens the requirement for heavy lubrication and reduces sound, while also preventing issues such as corrosion, galling, and pilferage.
When it comes to nylon grades, Nylon 6 and Nylon 6/6 are two frequently used types due to their unique properties and applications. Although they can often be used interchangeably for certain purposes, it's necessary to recognize the slight differences in their properties.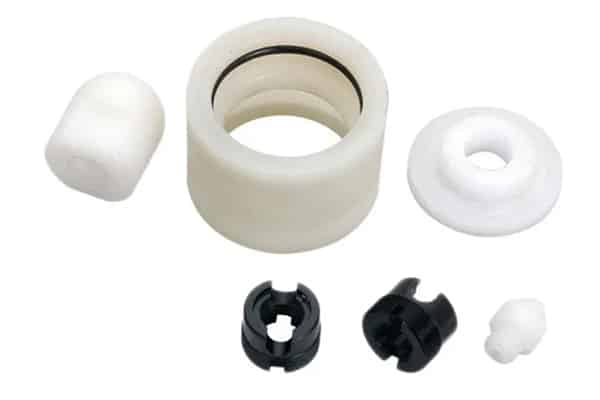 Nylon 6 or PA 6
Nylon 6 is typically manufactured in two variations, one intended for textile purposes and another designed for industrial applications requiring high levels of strength. Nylon 6 features low mold shrinkage and low heat deflection temperatures, while retaining the ability to withstand high levels of stress and impact. It's simple to color and possesses a striking lustrous appearance.
The most notable aspect of this polymer is its capacity for processing at lower temperatures with minimal defects. This type of nylon is frequently produced in the form of filament yarns and staple fibers, and is commonly utilized in the fabrication of ropes, tire cords, parachutes, and industrial cords. Notably, Nylon 6 presents distinct advantages over Nylon 66 in:
Better toughness
Better surface finish
Lower density
Lower processing temperature
Nylon 6/6 or PA 66
Nylon 6/6 is known by different names such as nylon 6-6, nylon 6/6, and nylon 6, 6 due to its composition of two monomers that have 6 carbon atoms each. Its unique structure makes it strong in varying temperatures and highly resistant to abrasion. Additionally, it has very low permeability to gasoline, mineral oils, and fluorocarbon refrigerants.
Similar to Nylon 6, this polymer finds extensive use in industries, ranging from thin-walled parts to thick-walled bearings, and serves as an excellent alternative to metal. Nylon 6/6 offers certain benefits over Nylon 6 including:
Higher stiffness
Higher strength
Better abrasion resistance
Lower moisture absorption
Higher temperature resistance
Nylon 12 or PA 12
Nylon 12 is also referred to as PA 12, which contains both laurolactam and ω-aminolauric acid monomers with 12 carbon atoms. This type of material possesses similar properties to nylon 6 and nylon 66, such as high tensile strength, hardness, and resistance to abrasion. Moreover, it is highly resistant to chemicals and stress cracking.
Glass-filled Nylon
Glass-filled nylon, a synthetic polyamide thermoplastic, is a crucial engineering material that is highly regarded for its strength and thermal endurance. It is produced by blending powdered glass with nylon resin or extruding plastic with glass fibers. The inclusion of glass significantly enhances the strength, rigidity, and hardness of the nylon, as well as providing it with superior dimensional stability, creep resistance, and wear resistance compared to the unfilled version. Furthermore, the use of glass-filling on nylon allows for higher maximum service temperatures.
These are the key advantages of glass-filled nylon over standard nylon grades:
Greater stiffness
Considerably harder
Excellent tensile strength
Higher creep resistance
Better stability at high temperatures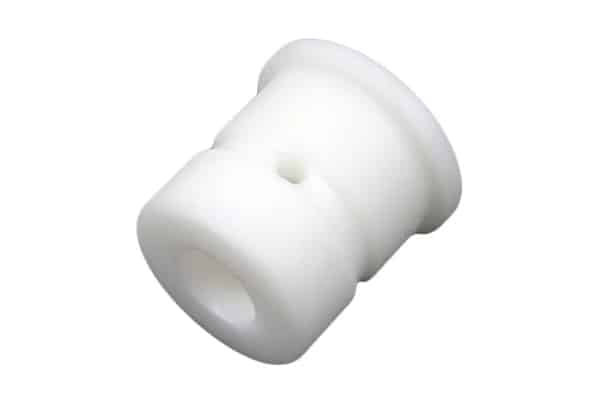 Properties of Nylon
| | | | |
| --- | --- | --- | --- |
| | Nylon 6 | Nylon 6/6 | 30% Glass-Filled |
| Tensile Strength at Yield | 10,000 psi | 10,000 psi | 12,000 psi |
| Impact Strength | 0.6 ft-lbs/in | 1.1 ft-lbs/in | 1.0 ft-lbs/in |
| Heat Deflection | 200-370° F | 194-455° F | 482-490° F |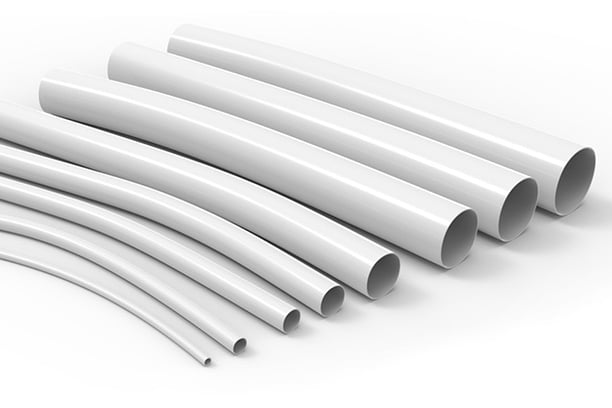 Benefits of Nylon
Nylon is a collection of synthetic polymers known for its robustness, resilience, pliability, and ability to maintain their shape and size. As a result, they are applied in a wide range of industries, including packaging, transportation, medicine, and construction.
1. High strength
Nylon substances are known for their considerable tensile strength, which grants them robustness and long-lasting durability.
2. Toughness
One of the most valuable properties of nylon is its resilience, causing them to be flexible and capable of supporting substantial loads without being easily broken.
3. Elasticity
Nylon possesses extraordinary elastic recovery characteristics, which enable them to revert to their original form after being stretched or compressed.
4. Dimensional stability
Due to its high molecular weight, nylon has excellent dimensional stability, permitting them to sustain its shape and size over a prolonged period, even in harsh situations like high temperatures and pressure.
FAQS of Nylon CNC Machining
Custom CNC Machined Nylon Parts – Rely On Runsom Precision
Runsom Precision is a prominent manufacturer situated in China with rich experience in creating custom nylon parts for industrial utilization. Our technical expertise and manufacturing experience of more than a decade enables us to produce precision custom nylon parts that align with or surpass your requirements. Furthermore, we are an expert in offering CNC machining services like sample making and production planning. Request an instant quote today to get started on your nylon machining projects!
---
Other Articles You May Be Interested in: