Best CNC Machining Services in China
Get High-Quality CNC Machined Parts from a Reliable China Factory
China CNC Machining Services
Headquartered in China, Runsom has more than 20 years of custom CNC machining experience. We are able to offer custom CNC machining services from design, rapid prototyping, and complex parts geometry to low or large-volume production. We are always committed to producing high-quality machined parts in line with your budget and lead time demand.
There is no need to worry about the language exchange because our team and sales representatives all are experts in English. So they will keep in touch with you from quote to delivery for every detail of your order. Ready to outsource CNC machining services to China? Runsom is here to help and we always welcome the challenge! Get started with your China CNC machining journey.
Top CNC machining services we offer include: CNC milling, CNC turning, 5-axis CNC machining, micromachining, Swiss screw machining, and more.
Why Choose China for CNC Machining?
China has made dramatic achievements in the manufacturing sector with its strength in low cost and rapid lead time. Nowadays, there are increasing quantities of companies seeking to outsource their manufacturing needs, especially for the CNC machining services. In fact, cooperating with Chinese suppliers for CNC machining is a tendency for global product developers by virtue of their superior capabilities and efficiency that few other countries can match.
The CNC machining and rapid prototyping services supplied by Chinese factories can be commonly found around the world not just in the domestic markets. Moreover, an increase in CNC machining suppliers further helps to reduce costs. Choosing China CNC machining services to obtain better results is mostly attributed to these key factors:
Improved supply chain and logistic options;
No incurring high hardware costs, labor costs, and training costs;
Nearly no raw materials waste, lower price.
How to Get Custom CNC Machining Services With Runsom in China
Upload Your Design
Just simply upload your CAD files and submit RFQs with clear information online.
Receive Design Analysis
We'll send you design for manufacturability analysis and transparent pricing.
Start Manufacturing
Our experts will produce your parts with the required technologies and materials.
Receive Your Parts
Your parts will be delivered to your door directly with stringent deadlines.
Our China CNC Machining Capablities
Runsom, a Chinese supplier, offers a wide range of custom micro CNC machining services, including 3, 4, and 5-axis CNC milling and turning, grinding, EDM, laser cutting, and others. Also, We can serve you custom CNC machining from design, rapid prototyping, and complex parts geometry to low or large volume production, and are always committed to producing high-quality machined parts in line with your budget and lead time demand. Check out our infinite machining capabilities in China.
CNC Machining Materials & Finishes
Choosing the exact materials and surface finishes is a vital step in the manufacturing of your CNC machining projects. Headquartered in China, more than a CNC shop, we are also a reliable supplier who stocks all kinds of materials and offers various finishing options on your demand.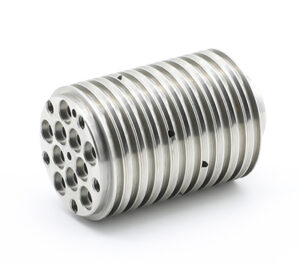 Aluminum 6061
Aluminum 5052
Aluminum 2024
Aluminum 6063
Aluminum 7050
Aluminum 7075
Aluminum MIC-6
Learn more about aluminum for CNC machining.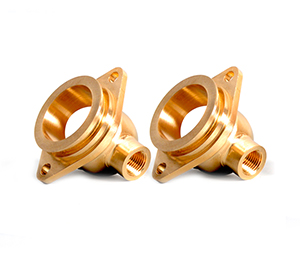 Copper 101
Copper C110
Copper 260
Copper 360
Learn more about brass for CNC machining.
Nitronic 60 (218 SS)
Stainless Steel 15-5
Stainless Steel 17-4
Stainless Steel 18-8
Stainless Steel 303

Stainless Steel 316/316L
Stainless Steel 416
Stainless Steel 410
Stainless Steel 420
Stainless Steel 440C
Learn more about stainless steel for CNC machining.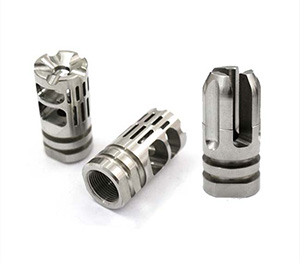 Steel 1018
Steel 1215
Steel 4130
Steel 4140
Steel 4140PH
Steel 4340
Steel A36
Titanium (Grade 1)
Titanium (Grade 2)
Titanium (Grade 5)
Learn more about titanium for CNC machining.
As machined: Without any surface treatment processing methods, the parts will leave visible tool marks and burrs, which can be completed quickly and cost-saving.
Bead Blasted: A surface treatment process to obtain a certain degree of cleanliness and different roughness on the surface of the workpiece. The surface after sandblasting is dull and matt.
Anodizing: A process of forming a layer of oxide film on aluminum products, in order to overcome the defects of aluminum alloy surface hardness and wear resistance. Many colors(such as black, red, blue, etc.)are available. Divided into Type II (normal) and Type III (hard), Type III is usually thicker than Type II and more corrosion resistant.
Powder coating: The plastic powder is adsorbed to the surface of the workpiece by electrostatic spraying to form a powdery coating, and then the powder layer is cured by heating and baking to level it into a uniform film layer. It is usually used for appearance parts, and a variety of colors is available.
Our standard tolerance for metal is DIN-2768-1-f and plastic is DIN-2768-1-m in CNC machining. The tolerance is greatly influenced by the part's geometry and material type. For the specific tolerance details of different parts, please contact us.
Linear dimension

+/- 0.025 mm
+/- 0.001 inch

Hole diameters (not reamed)

+/- 0.025 mm
+/- 0.001 inch

Shaft diameters

+/- 0.025 mm
+/- 0.001 inch

Part size limit

950 * 550 * 480 mm
37.0 * 21.5 * 18.5 inch
CNC Machining Applications
Because CNC machining can achieve a high precision without changing the material structure with good manufacturing speed, it is becoming growing common as the range of machines, control systems, and tools for CNC machining continues to expand. Runsom is dedicated to providing precision machining services for various industries and our precision CNC crafted parts can be found in all areas of the industry, including:
If you are looking for a rapid prototyping manufacturer or a CNC machine shop to fabricate small, medium volume, or mass production products, Runsom is an ideal choice. Our well-trained and experienced staff manufactures parts in line with drawings on modern CNC machines,  with the highest accuracy and processing quality in all sizes. In addition, we provide professional design considerations for your CNC machining projects.
Want to get the most professional and fastest service for your CNC project? Upload your CAD files now and obtain a quote!
Why Choose Runsom for CNC Machining Service China
CNC Machining Parts Gallery
Related Resoures about China CNC Machining
Services: multiple CNC machining, light bead blast, hard anodized black, laser engraving, clear zinc passivationMaterial: aluminum 6061, stainless steel 303, C45 ...
Read More

→
Ready for Your Project with A Free Quote?