Pins (pip pins), detent pins, and other spring-loaded quick release pin assemblies are available at Runsom in a variety of sizes and styles to support any application.
Standard pins are usually made of stainless or carbon steel. Spring-loaded locking pins typically consist of zinc, steel, or carbon steel. Runsom is delighted and able to accept special variations beyond the standard product. Request an instant quote to learn more about our machining capability of Quick Release Pins today.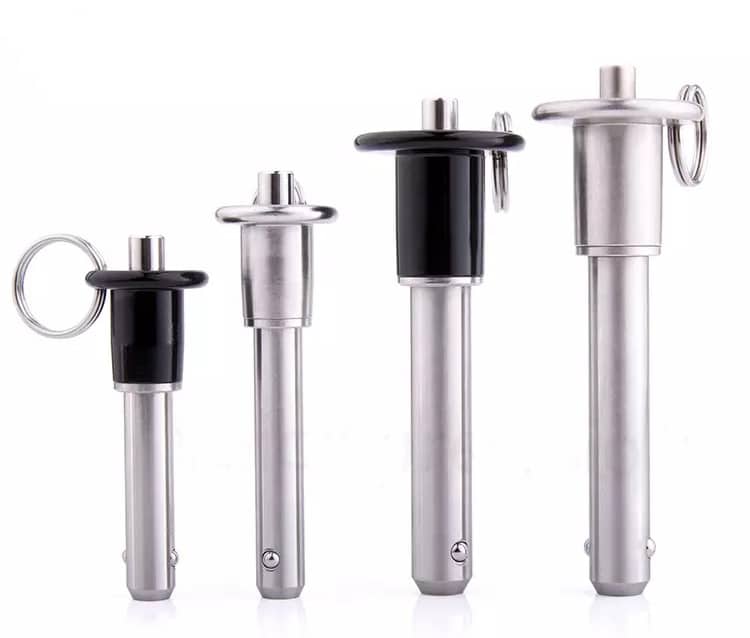 Custom CNC Machining Precision Quick
Release Pins
Machine pins are a type of fastener and hardware used to align objects or materials together available in semi-permanent and quick-release forms. The former requires special tools or extra pressure for assembly and disassembly. Quick-release pins have a spring-loaded mechanism that locks these pins in place, making insertion and removal easy. Pins can be made of stainless steel, copper, brass, wood, plastic, and more. Whether you are looking for lightweight, malleable, conductive aluminum pins, affordable plastic pins, or industrial pins made of other materials, CNC machining services provided by Runsom can deliver you the exact desired product.
Types of Quick Release Pins
T-Handle Locking Quick-Release Pins
For a more secure hold than standard quick-release pins, these pins lock in place until you press the button, which releases the spring-retained ball.
Knob-Grip Locking Quick-Release Pins
The smaller width and extra height make the button more accessible in tight spaces. Made completely of stainless steel, they can bear corrosive environments.
L-Handle Locking Quick-Release Pins
When there's not enough room for a T-handle, the L-handle saves space but still makes these pins easy to grip. Pins are made of 17-4 PH stainless steel for added corrosion tolerance.
These all-stainless steel pins are also known as ground handling pins with super corrosion resistance. A T-or L-handle makes them easy to grip.
Double Acting Ring Handle Pins
These pins are activated when you pull the ring or push the button to release the spring-retained ball. The smooth ring handle won't catch on parts.
Rapid Release Pins|Quick Release Pins
Our quick release pins are used to easily tighten, position, hold, adjust, align, and/or remove attachments from equipment.
Quick release pins contain a wide variety of pins with different usage like detent pins, assembly pins, locking pins with axial locks, cotter pins, locking pins with ball locks and locking pawls, and ball lock pins.
Quick release pins are widely used in quite a lot of different industries, including:
Military/Aviation
Manufacturing
Packaging
Transportation
Metalworking
Maritime - boat, marine, ship, and yacht
Exercise and sports equipment
Entertainment – sound, stage, and lighting
Quick release pins, commonly known as pip pins, allow the user to quickly fasten, locate, and align two applications. The locating pin cannot be removed until the user presses the button on the top of the T-handle or recessed grip once the fastening pin is inserted into the application.
These manually operated fasteners are available in metric and imperial (inch) sizes and can be used to quickly disassemble equipment from aircraft, helicopters, and military vehicles, as well as high-performance yachts and automobiles.
The shank is 4130 alloy steel, heat treated and cadmium plated for tensile strength of 180,000 psi. These pins have two stainless steel locking balls that securely hold the pins until the release button is pressed.
Heavy duty cotter pins use a forged high carbon steel body to replace the traditional split cotter construction. The locking action is provided by a steel snap ring mounted on the head of the pin. The locking action of the single-action pin is controlled by a plunger-actuated locking mechanism.
Ball Lock Pins are high strength, quick release locating pins with a precision ground shank. They are positively locked until released by pressing the button, which moves the center shaft forward, allowing the locking ball to retract (a double-acting version of the ball locking pin is released by pushing or pulling).
The quick release lever should be on the non-drive side of the bike. The quick release must be tight and fully closed for safety. If you close the lever in such a way that it is parallel to the fork or stand, you will have something to grab when you squeeze the lever.
Find the quick release lever located on the back of the watch strap. Slide the quick-release lever all the way to the left, as far as it will go. Carefully bend one corner of the strap back and away from the spring bar so that the tip pops out of the lever hole.
You can measure the inside diameter of the axle, or you can measure the diameter of the present skewer. Most axles use a 5 mm thick skewer. A wheel made for a suspension fork might have a skewer diameter of 9mm (front) and 10mm (rear). The diameter of the skewers used for seat posts and stems is usually 6 mm.