CNC Screw Machining Services
High-quality custom CNC screw machining services for the creation of high-performing components and parts for numerial industries.
Custom CNC Machining Screw Services
Screw machining is the process of rapidly rotatory lathes whittling metal to the required size and shape. There are two main types of screw machines, that is, Turret and Swiss. Both automatic and CNC Swiss screw machines allow for more precise work as a result of their tight configuration and tooling. Once properly programmed and oriented, the machining process is relatively cost-effective for long-term production runs. In general, however, Swiss screw machines outperform Turret-style machines in their capability to conduct more precisely relying on their additional types of tooling fixtures.
Runsom is committed to providing high-quality screw machining services for customers around the world with high-performing and durable parts and components. With our expertise, equipment, and experience, we are proficient in creating custom screw parts with the certain material you require, the specific specifications you demand, and the tight tolerance you need.
How Does A Screw Machine Work?
CNC screw machining involves a process of turning various metals, plastics, or other materials into large quantities of essential machine parts and components.
Screw machines are used to cut through metal quickly and can perform multiple options and operations simultaneously. The tools on the screw machine carve the workpiece from multiple sides, utilizing mechanical levers, changeable gears, and hand-cut steel cams to determine the spindle speed for forming and producing special bolts, nuts, components, and assemblies that exactly match the required specifications.
Types of Automatic Screw Machining Equipment
Screw machining equipment is typically characterized by five essential parts: the headstock, one to eight spindles, front and rear slides, the turret, and the base.
This machine is designed in different variations to meet different application requirements. Two types of well-known automatic screw lathes are shown below:
There are two main types of Swiss screw machines: CNC-based screw machines and automatic screw machines.
The automatic screw machine is characterized by the use of a collet, which holds the workpiece in place, while the disc cam moves the tool in a radial motion. Very tightly positioned spindle collects help avoid misaligned debris during machining.
Swiss lathes function by utilizing a sliding headstock and guide bushing. The workpiece is fastened on the headstock with a collet and rotated. As the headstock moves forward and backward, the cutting tool moves over the workpiece so that it is cut to the desired diameter and length.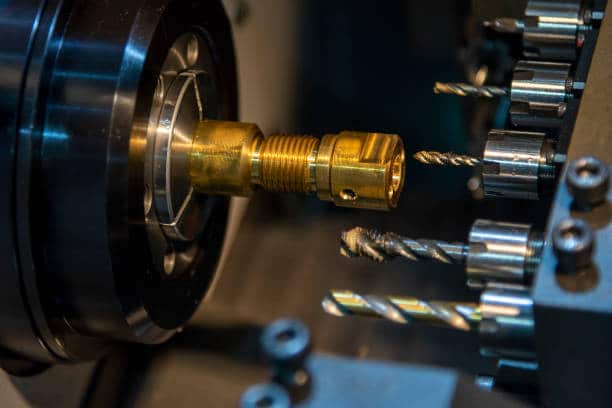 Turret Style Machines
Turret lathes consist of a rotating turret that houses the tools and the workpiece is mounted on a vertical ram that slides into the lathe whereas the Swiss-style works by mounting the component to be manufactured on a rotary slide.
The turret holds the held part until the entire sequence of operations is performed, at which point the turret releases the part and it drops into the bottom of the machine. Although the means of operation of these screw machines are different, their production output is basically the same.
Screw Manufacturing Process
While the screw machining process differs in the part specification and production volume, the operation flow is generally the following steps.
The workpiece (usually a rod or bar stock) is locked into the machine and rotated.
A spindle holding the tooling moves over the workpiece, molding it to the required size and shape.
The workpiece passes through each spindle position until it reaches the specified dimensions.
Cut-off tools cut off the formed part from the rest of the blank.
Finishing equipment, such as deburring equipment, removes excess debris and material to sharpen edges and smooth surfaces.
Advantages of Automatic Screw Machining
CNC screw machines usually need human involvement only for setup and changeover, so they can work with little operator supervision.
The precision grade of turned parts is generally higher than that of other types of lathes due to the use of a guide bushing and collet.
Swiss lathes can turn at speeds in excess of 10,000 RPM. In addition, multiple spindles ensure an increase in productivity.
CNC screw machining generates identical parts with consistent quality for short or long production runs.
Turning is ideal for making miniature parts that are otherwise complex to produce, as well as for larger parts that require additional attention to detail.
Our Screw Machining Capabilities
Runsom is specialized in manufacturing screw machined parts from numerous variety of materials ranging from metals to plastics. The automatic feeding process of our CNC screw machines performs continuous operations and high efficiency. Moreover, the dual-spindle design enables us to perform various secondary operations within the same cycle, forming many part features.
Precision Swiss CNC lathes
CNC Multi-axis machining centers
Multiple-spindle cam automatics
As fast as 3 days, but it will be finally determined by part complexity and order quantity.
It's determined by the machine and part geometry.
With our expertise, experience, and equipment, Runsom offers high-quality custom machining services for various applications across broad industries.
Experience
We have been in the precision CNC machining business for over ten years and delivered countless custom screw parts for global customers, so there are virtually no too complex or large projects for us.
Equipment
Our facilities are well-appointed. Advanced equipment like CNC machines and CNC Swiss screw machines that are equipped with multiple tools that perform different cutting operations sequentially allow for manufacturing any type of screw components including shafts, plumbing fixtures, automotive components, and hydraulic valve parts.
Expertise
Our team of engineers, machinists, and technicians is highly skilled and proficient in customizing screw parts with intricate geometries and features that fit your crucial specifications and special requirements.
Applications of Screw Machining
The area of applications of parts and components fabricated by CNC machining screw is broad. They are commonly found in the following fields:
Agriculture
Our fasteners are critical to the integrity of crop handling and field irrigation systems. These machines require strong fasteners to remain consistent under high pressure.
Automotive
Part of the basic and specialized automotive fasteners we produced includes plated U-bolts for suspension systems, low-friction square thread jacks for power transmission, and engine bolts
Military and Defense
The fasteners we manufactured have high durability and excellent quality, ensuring crucial systems remain their integrity under some of the harshest operating environments.
OEM
We offer a wide variety of fasteners for OEM customers such as standard and metric fasteners, O-rings, custom screw machine tooling, brass fittings, and other options.
Transportation
Huck fasteners and blind rivets for trailers and trucks reduce forces from road vibrations.
| | |
| --- | --- |
| Seals | Nozzles |
| Fasteners | Fittings |
| Shafts | Panel Screws |
| Spacers | Hydraulic Poppets |
| Inserts | Electronic Connectors |
CNC (Computer Numeric Control) machines can now precisely file and shape virtually any type of material, making it possible to manufacture screws of consistent size and shape in mass production.
A Swiss screw machine is an automatic lathe with multiple tool holders arranged radially around a spindle, and a tailstock coaxial with it. It is designed for the rapid production of high-precision, small parts.
Screw machines are automatic lathes that can turn parts. Machine parts spin rapidly on a rotating lathe, shaving down metal to the desired size. There are two types of screw machines: Turret and Swiss machines.
Screw machining is the process in which a rapidly rotating lathe whittles metal down to the desired size. There are 2 main types of screw machines: Turret and Swiss.
Ready for Your Project with A Free Quote?
Turn to experts at Runsom if you are looking for a reliable manufacturer with exceptional machining capabilities and rich experience. We are full of skills, knowledge, and expertise to deal with your order and deliver the best result even beyond your expectation. To learn more about our services and products, please contact us directly or submit an RFQ online to work with us today!